Pymatuning Reservoir & State Park
Lake Pymatuning is a seventeen thousand acre reservoir that lies along the Ohio-Pennsylvania border with access from both states. This man made reservoir was created between 1931 and 1934 when frequent flooding and difficulty utilizing the swamp like conditions for farming caused local decision makers to damn the Shenango river. This created the largest lake in the state of Pennsylvania with over 70 miles of shore line. Pymatuning serves as a popular recreation area for the surrounding communities, reduced the negative effects of frequent flooding, and provided a water source for nearby residents.
The towns of Espyville PA and Andover OH lie on each state's side of the lake, connected by a causeway that allows cars to travel between the states. The two mile long bridge has several pull-offs that allow access for fishing and sightseeing.
Points of Interest
Spillway – The spillway is probably one of the most unique attractions of lake Pyamatuning state park. It is an attraction right on the water, although probably best enjoyed by shoring nearby and approaching on foot. Years back a tradition of feeding carp in this area has caused the carp population to expand unnaturally so the fish are in extreme numbers and very large. The fish are so in such numbers that while competing for bread scraps thrown from visitors ducks that are also nearby for a bite can walk along the fish as they come to the surface for a chance at the food. While this sounds like something that may be frowned upon, this is interestingly approved by the local park authorities and is one of the only places where feeding wild life is encouraged within a state park. This area has plenty of parking lots for visitors arriving by car, and has plenty of amenities including bathrooms, concessions, and even a pressed penny machine for collectors. Local volunteers sell outdated bread very cheap for throwing to the fish but you can bring your own as well. This is truly a unique spectacle and much worth a stop if nearby.
Tourists feeding carp bread at Pyamatuning spillway: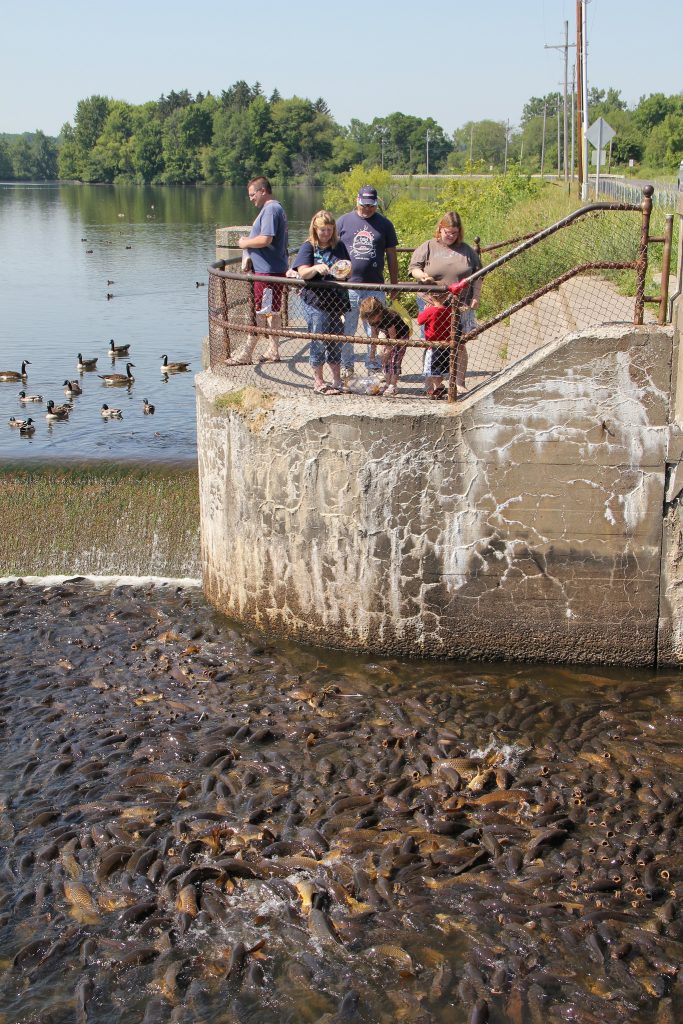 Photo credit Daveynin on Flickr
Clark Island – 161 acre island centrally located on the PA side of the reservoir. This island is untouched forest with no trails or man made infrastructure so have appropriate footwear and supplies if you plan on visiting.
Black Jack Swamp – reminiscent of the swamp land that existed before the lake was created, Black Jack Swamp is 700 plus acres of wildlife area, some of which is accessible from the water. Much of this land is difficult to reach by Kayak due to the patches of land. The swamp is located in the north western part of the lake.
Stocker Island is located near the Ohio shore nearest the Simmons launch. This small island is a popular spot for local fishermen and kayak anglers.
Kayaking Events at Pymatuning
Battle At The Border – annual kayak fishing tournament that takes place in the lake, can partake from and PA or OH launch on the lake.
Earth Day Pick & Paddle – this event with the goal of cleaning up the area enjoyed by so many is recommended for more experienced paddlers due to the additional challenge of removing debris from a kayak and the colder water temperature in April when the event takes places. Prizes are offered for the most trash collected as well as most unique trash found – I'm sure quite a few interesting things have been removed from the water.
Water Conditions & Weather
The reservoir offers still water great for beginners. The low horsepower restrictions on boats (20HP max) also ensure boat traffic is slower with minimal disturbance and wakes. Water level information for the reservoir and for the Shenango river, just downstream from Pymatuning dam can be found here. Current weather at Linesville PA can be found here and is representative of conditions throughout the park.
Fees & Regulations
No fees are required unless boat rental is desired. Boating rules are enforced by both Pennsylvania and Ohio park authorities who do recognize each others launch permits. A Pennsylvania kayak launch permit can be obtained through the PA Fish & Boat commission. For Ohio, kayaks and other hand powered watercraft are covered under the alternate registration which can be obtained here: http://watercraft.ohiodnr.gov/alternative